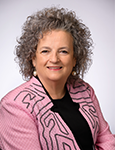 Kathy Samples
Chief Executive Officer
Kathy Samples has been with CG Bank since 1977 and serves as Chairman/CEO of the Bank and President of the bank's holding company, CG Financial Corporation. She has worked as a Teller, Bookkeeper, Human Resources Director and Loan Officer until 1998, Executive Vice President from 1998 to 2002 and President/COO from 2002 to 2008.
She is a graduate of the Graduate School of Banking at LSU and currently serves on the board of The Bankers Bank of Kentucky, Bluegrass Bankers Board, and Chairman of the Marcum Wallace Mercy Health Hospital. She has also served on various boards in the past including the Estill County Chamber of Commerce, Estill Development Alliance, Hospice Care Plus and Irvine-Ravenna Kiwanis Club.
Kathy and CG Bank was co-recipients with Monroe Bank & Trust of the ICBA's 2010 National Community Bank Service Award for financial literacy for their partnership with the Estill County High School to open an on-campus branch, Engineer Guaranty Bank, staffed by students enrolled in a banking and personal finance course offered by the school.
Kathy is a Kentucky Colonel and was the first recipient of the Community Mountain Mover recognized by the Estill County School System for her development of positive relationships that have a direct and lasting effect on the lives of the students of Estill County.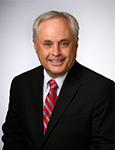 Mike Wilson
President
Michael Wilson has been with CG Bank since 2008, and currently serves as President and Director. In addition, he is a Director of the CG Financial Corporation. Before joining CG Bank, Michael was a bank examiner for the Kentucky Department of Financial Institutions (KDFI) for approximately 23 years. The last ten years of his career with KDFI he served as the field office supervisor. Michael holds BBA degrees in both Accounting and Economics from Eastern Kentucky University. In addition, Michael is a graduate of the Graduate School of Banking at Louisiana State University in Baton Rouge, Louisiana. Currently, Michael is a member of the Kentucky Department Financial Institutions Board.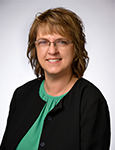 Regina Robertson
Chief Operating Officer
Regina started her career with CG Bank in 1985 and has worked in various departments in the Bank including Proof Operations, Bookkeeping, Relationship Banking, Deposit Operations, Marketing Director, Branch Administration, Payroll Clerk, Executive Assistant and VP of Planning & Development. In 2009 she was promoted to her present position as Chief Operations Officer where she oversees the day to day administrative and operations of the Bank and also serves as Corporate Secretary to the Board and Holding Company.
Regina is a graduate of The Graduate School of Banking at LSU. She is passionate about the community and has served as a volunteer and served on several boards including the Estill Co Chamber of Commerce (past President), Estill Development Alliance, River City Players, Irvine Ravenna Kiwanis Club, Hospice Care Plus, Elizabeth Witt Christmas Committee and secretary to the Estill Co Industrial Authority. Regina currently serves as a water commissioner and Chair of the Irvine Municipals Board and Eastern Kentucky District Church of the Nazarene Financial Committee. She was awarded the Kiwanis Youth Service Award in 2010 and the National College Alumni Hall of Achievement Award in 2011.
Regina and her husband attend and are members of the Irvine First Church of the Nazarene and have a son, Matthew, who is a teacher in the Estill County School System.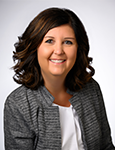 Lisa Puckett
Chief Financial Officer
Lisa Puckett has been with CGB since 1989, and currently serves as Chief Financial Officer. She has worked in various areas of the bank including Bookkeeping, Proof Operations, Internal Audit, and Loan Review. She is a Valedictorian of Estill Co High School, holds a BBA in Accounting from Eastern Kentucky University, and graduated summa cum laude from the Barret School of Banking.
Lisa and her husband, Kevin, reside in Irvine and have two grown daughters, Mallory and Samantha. They attend Southland Christian Church.