Stanton Branch Grand Opening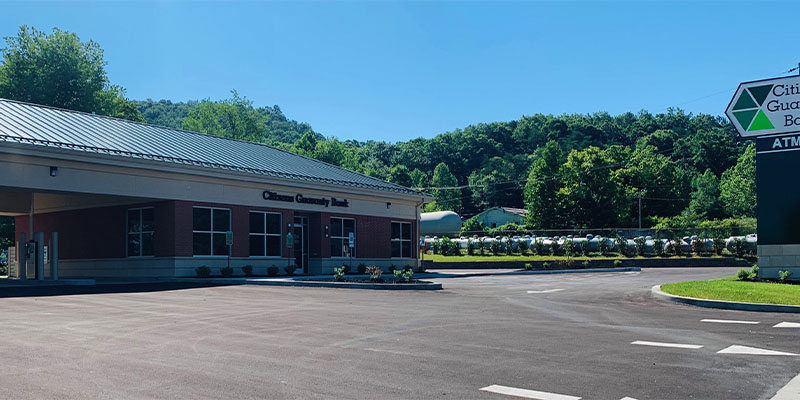 6/24/20 – Stanton, KY.: Citizens Guaranty Bank, a community bank based in Irvine, KY. announced that their latest branch, located at 488 South Main Street here in Stanton is officially open for business.
James Clark, the Market President for Powell County, had this to say about the opening.
"As a lifetime resident of Powell Co., I'm excited for the new opportunities for our community with the opening of our new Citizens Guaranty Bank branch in Stanton. I enjoy working with my friends and neighbors to better their lives, along with bettering our community through economic growth. Our staff is anxious to get started, and we look forward to seeing you!"
Citizens Guaranty Bank opened in Irvine, KY. in 1972. A move into Madison County happened in 1992 with the opening of a branch in downtown Richmond. Today, the bank operates 7 locations with two in Irvine, two in Richmond, one each in Berea and London, and now it's first location in Powell County.
Citizens Guaranty Bank is a full-service financial institution with a deep commitment to the communities it serves. As a locally owned and operated bank, Citizens Guaranty Bank aims to be a community resource for the business and personal financial needs of its neighbors.
The Bank offers a full range of financial solutions for its customers. These include, but are not limited to; Checking, Savings, Money Market, CD/ IRA, Round Up Service, and Online Bill Paying options. The bank offers service in person, by phone, and online. It also has a smart phone App that offers customers mobile banking solutions.
Due to current concerns about the spread of Covid-19, until further notice, the lobby of the new branch will be open by appointment only. However, there is a full-service drive thru, and the bank has begun offering curbside banking where customers can do their banking from the convenience of their cars.
View all news